Welcome to Digital Scrapbooking HQ - I hope you are enjoying my Digital Scrapbooking Primer Series at Layout a Day.
To say thankyou for visiting my site today, I'd like to offer you 50% off of Simple Template Album today.
Want to get a head start on Layout a Day?
Does the though of creating a layout every day from scratch send shivers down your spine?
Are you new to digital scrapbooking and ready to start creating pages?
Do you feel overwhelmed at the thought of creating a whole album?
Do you want to create photo-centric layouts without the fuss of lots of layering?
I've created just what you need!
Click here to view this photo book larger
In just a few sessions of scrapbooking, you can complete a beautiful album.
I've got everything you need to create your own album:
Enough pages for LOAD - 31 in fact!
Lots of pages that use multiple photos
Photo focus pages for those stunning photos you want to showcase
A place to share your thoughts and stories on each page
Tasteful title placement options
Ideas on placing embellishments for that finishing touch
A quick way to create a cover to print perfectly with Shutterfly
All the help you need to get started
This collection includes:
31 pre-shadowed fully layered templates
An inspiration gallery including over 80 completed pages
A introductory video tutorial for new digital scrapbookers
A tutorial explaining some advanced methods of making the templates work for you!
All this for $49
Over 50% off for Layout a Day readers!
Buy today for just $24!
Here's a reaction from one scrapper using the templates:
Here are a couple of layouts I have done from your template pack. They are great and I love how simple they are to use and customize! …these two pages are part of a retirement gift for a friend… These photos are from an Alaska trip he and his wife took so he is filling in the journaling. Your templates are perfect because they are so photo-centric. They allow his photos to take center stage and yet they also allow room for telling stories and adding embellishing bits too.

Casey Thompson

See the pages she created:
Word art and Digital Kits: Complete a book in just 5 days
Valarie created this book for a friend in just 5 days using my templates, a couple of digital kits and some word art.
Click here to view this photo book larger

Here's what she said about the experience:

I have just enough time to get this back from the printers by the 17th, all thanks to your letting me use your album template set! I just could not get this thing to go together at all, you should see the pages I tried before! Bleh!

Again, I chose to not do all the journaling, but used wordart instead, so the journaling layers were all deleted, otherwise I mostly stayed with the template as is, changing very little as far as placement and size.

Honestly the most time consuming part was going through my folders and folders of "stash" to find elements and the right wordart to add to it. The actual total time I put into it was about 5 days, off and on, working around my work time and other obligations.

Some of it could probably be reworked with better ellies or clusters or whatever, but ... whatever. I struggled with that thing for 9 months, because I PROMISED, and with your template got it done quickly.

Thanks again for including me, you're a promise-saver!

Valarie
Photographs and Journalling: Aska's album took just 3 weeks to finish.
Aska created this gorgeous book documenting her favourite memories since moving to Hesse, Germany using her photos and a couple of embellishments within a couple of weeks.
Click here to view this photo book larger
Here's a look at the album that started it all
My December Daily inspired album created with a couple of kits, and my favourite December photos. After the holiday season I took my diary, blog posts and photos and created this book. The templates in the album pack are based on this book.
Click here to view this photo book larger
What's inside?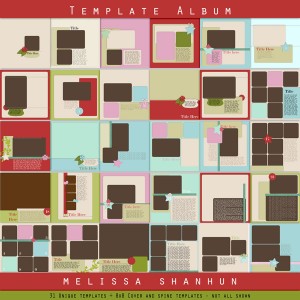 31 easy to use, photo focussed templates
1 12x12 Shutterfly ready cover template
1 quick start video tutorial
1 tutorial covering more advanced uses of the templates
Email support from Melissa!
Here's the full preview of items included
30 day Money Back Guarantee

I am convinced you'll love the templates, but just in case you don't find that you are able to quickly and easily create your own digital scrapbook album with them, let me know within 30 days and I'll refund your money, no questions asked.
Got Questions?
Love the idea, but not sure you know how to use templates?
Don't worry. I've included a video tutorial that gives you the inside shortcuts so that you can get your pages done in a few minutes each.
Do you prefer to work from sketches?
I've got you covered, I've also included a bonus PDF ebook of full colour sketches free!
What do I get?
31 easy to use, photo focussed templates in PSD, TIF and JPG format
1 12x12 Shutterfly ready cover template
1 quick start video tutorial
1 tutorial covering more advanced uses of the templates
PDF ebook of sketches
Email support from Melissa
How do I download the files?
Once you've checked out using PayPal or your credit card, you'll receive an email with a link to the download page.
How long do I have access to the downloads?
You'll have one year of access to the files, however, if you ever have issues accessing them, just contact me.
Still got questions?
Contact me me for more information.
Buy now
Usually $49, only $24 for Layout a Day readers