I'm so excited to be featured on This Memory Keeper's Life.
Debbie Hodge's podcast is such a joy to listen to weekly, she chats with a scrapper from somewhere around the globe. There will be some new names and some you may have heard before, but it's always interesting to hear how everyone finds time for their favourite hobby.
I've included some links and information about what we chatted about in the interview.

My blog
I blog at http://blog.mshanhun.com.
I post photos, mummy musings, Take 12, December Daily, Week in the Life or One Little Word posts. I'd love you to come over and meet me there.
You can see a video walkthrough of my first paper scrapbook album there!
Baby Books
Here's a walk through of Emily's baby book.
I created the pages using templates and Photoshop Elements printed it using Shutterfly.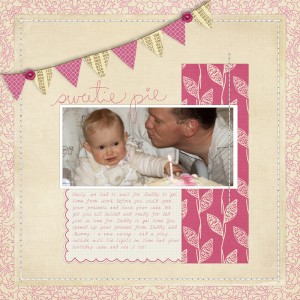 Credit: Template and Products by Erin Ink
Want to create your own beautiful album? You can buy my set of 31 templates along with all the tutorials you need to get started.
Click here to view this photo book larger
Here's Edward's page:
With Karen Lewis Designz Silly Billy Kit and Biograffiti template.
How to get started
If you are looking at starting digital scrapbooking...
I have a full course that walks you through starting to scrapbook you can check out the Digital Scrapbooking Primer here
It starts from installing Photoshop Elements and takes you from there
Want to dip your toe in the water first?
I'd recommend you pick up my Digital Scrapbooking for Absolute Beginners. It includes video and PDF handouts to get you started.
I'd suggest using a freebie kit or two to get started. Otherwise you could spend hours shopping! There's lots of cool kits out there. My favourite designer is Flergs - she has freebies here: and at her Facebook page.
Then you have a great starter pack.
If you are wanting to start from the blank canvas and go from there, this is the workshop we mentioned: Scrap from Scratch.
Workshop, Supplies, Memory Logbook and more
Top 10 Text Tips

August's workshop will cover one of your most requested topics,  text techniques for digital scrapbooking
Watch as I show to the top techniques to give your titles and journalling a boost using Photoshop Elements
You will come away with:
An understanding of how the type tool works in Photoshop Elements
10 ways to add style and creativity to text on your page
High definition video recording
Handout including the slides and links mentioned in the workshop
Date: Sunday, August 26 (Monday, 25th August Aussie Time)
Time: 9:30 PM - 10:30 PM (US Eastern Time) (9:30am Western Australian Time GMT +8)
Cost: $20

Fabulous Photos in Perth
I'm excited to share that I have an in person event coming up in September, with Ruth Sprague of Scrapbook Central.
This will be an introductory workshop on Photoshop Elements - you'll be learning while you improve your existing photos for use in your scrapbooking, either paper or digital.
More information and registration
The Digi Game
The Digi Game is a great way to get all your scrapbooking kits and a template set each month for a low price. I use it to keep up with the designers around the digi-verse and keep my supplies fresh.
The Memory Logbook
In an aim to simplify my life in 2010, I decided to combine my scrapping ideas, monthly round-up, diary and journal into one and so the Memory Logbook got put on my wishlist for Christmas 2009. My husband bought the printable version for me and it sits on my desk. After 18 months later, I'm using the new half-year printed version, and still loving it! I'm planning events on the notes pages, smashing bits and pieces of receipts, business cards –writing my monthly summaries for a quick and simple overview of our year, events and snippets of life for future journalling and being inspired by the weekly challenges. I created a whole scrapbook album in 5 weeks using my Memory Logbook to prompt the journalling and help me find photos.
Community, Courses, Templates and Projects. I love the community that is building among the members at Simple Scrapper, I feel like I'm making new scrappy friends who understand me and give me confidence to try something new!
RadLab
For simple and gorgeous photo editing check out Rad Lab. It works perfectly in Photoshop Elements - check out my introductory tutorial to see it in action.
If you are interested in buying RadLab I have a 15% off Coupon: 1160DSHQ
Thanks so much for visiting today - feel free to browse my tutorials for more inspiration.
It's been great to meet you!
Melissa