Have you seen color swatches?
Not sure how to use .aco and .ase files?
Here's the scoop!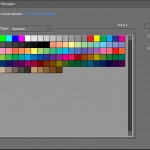 There are two types of swatch files: Adobe Photoshop Colour files (aco) and Adobe Swatch Exchange
You can select and save favourite colours to reuse in your layouts or when designing a kit.
You can generate swatches from your photos at Big Huge Labs (Thanks Katie for the tip!)
You can download swatches in colour schemes you like from Kuler.
If you are looking for more colour inspiration, there's a lot of chat about colour schemes over in the comments at the Paperclipping DigiShow Episode 20.
Quick tip: You can open a ACO or ASE file using the File > Open command and it will be instantly added to the end of your current colour swatch
You can save and use custom swatch libraries via the Preset Manager. I use that to save out individual swatches using the Save set button. Watch the video for more details!
You can manage the swatches using the Color Swatches panel – get to it by clicking Window > Colour Swatches.
To save a library of swatches, choose Save Swatches from the More menu. To make the set appear in the panel's swatch libraries pop?up menu, save the file to the Photoshop Elements\Your Version\Presets\Color Swatches folder (that's the default folder that opens). To see the new swatch set in the menu, you must restart Photoshop Elements.
To select and load a swatch library, choose Load Swatches from the More menu in the panel.
To replace the current swatch library with a different library, choose Replace Swatches from the More menu in the panel and select a library.
You can also load ASE (Adobe Swatch Exchange) files into Photoshop Elements, I demonstrated this using Tastebud Tickle from Kuler and Big Huge Labs palette generator.
Here's a little swatch I created for you to play around with Album swatch
Have you ever used colour swatches?