Today my friend Alice is sharing her wisdom from many years of scrapbooking. What a great reminder on how to really get the most out of our hobby!
With time comes experience. After nearly 17 years of scrapbooking, I have been around the scrapbooking block a few times. 😉 How quickly the time passes!
If there's a struggle that scrapbookers have, there's a good chance I've already tackled that problem.
Feeling of overwhelm for having so much to do. Check.
Feeling that my scrapbooking will never measure up. Check.
Feeling that I'll never catch up. Check.
Worrying that I'm scrapping one child more than another. Check.
Struggling to 'keep up with the trends'. Check.
Deciding that I may never be 'on trend'. Check.
Leaving the journaling for 'later'. Check.
Feeling guilty that 'later' never came and now my pages are blank. Check, check, check!
Thankfully these days I'm in a comfortable place with my scrapbooking. I like what I'm creating. I don't feel overwhelmed. I make pages that I truly love and I tell good stories on my layouts.
It's time to share some of the most important lessons I've learned these past 17 years. So here's my...
10 Tips a Scrapbooker Needs to Know
1. Find your own style.
Scrapbooking is filled with so many options; page size, design style, pocket pages, mini albums, photo books, digital scrapbooking vs. traditional. There is not a wrong choice, just try to find something that works for you. Don't be worried about what other scrappers are doing. The best scrapbooking style is the one that you like to do, if you don't like it, you won't do it!
2. Get inspired!
Instead of comparing yourself to others, use them for inspiration... and scraplifting! One of the great things about all of the inspiration that is available is being able to pull inspiration from the layouts and use it on your pages. Scraplifting ideas from other scrappers is a great way to help you figure out what style works best for you.
3. Keep it fun!
Try new things. New products and techniques will help you get out, and keep you out, of a scrapbooking rut. Watch a video, take a class, play with something messy, experiment in a style unlike your own, try something that scares you. If you make your scrapbooking fun you will do it more often! Try this super creative card: Pull Me Surprise Card
4. Find creative friends.
When you have friends that scrapbook you'll have more fun. Find some scrappy friends to scrapbook together with and set up a regular scrapbooking time together. If your friends aren't interested in scrapbooking you can show them some of the cool cross-over styles of scrapping. Pocket pages, planners, smash books, these are all great ways to hook new people! 😉
5. Tell more stories.
Sharing stories about your life is one of the main purposes of scrapbooking. Whatever you do, don't skimp on the storytelling part of your layouts. One of the biggest regrets many scrapbookers have is not telling more stories, not just the who, when and where's of the photos.
6. Improve your journaling skills.
Work on your storytelling skills. The more practice you have with creative journaling the easier it will become. Try this journaling tip: Make Connections. When you tell a good story your layout comes alive. This makes it more interesting for your audience and you don't end up with pages that say, "It was fun." or "You're so cute."
7. Keep your stash manageable.
Don't get overwhelmed by products. Too many choices actually make scrapbooking more difficult. You don't need perfection, you just need to find something that works. That means no hoarding your supplies! Use the good stuff. If you can limit your supplies you'll be amazed at how creative you can be with fewer supplies and it will be so much easier to clean everything up!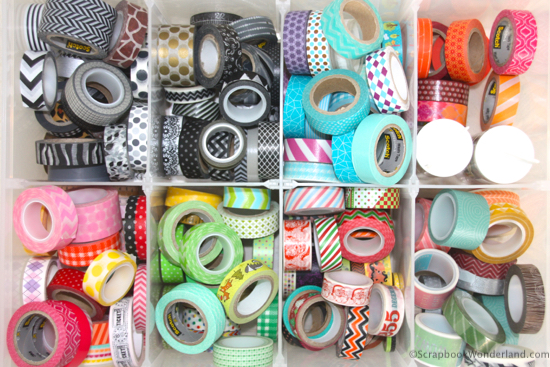 8. Relax. It's just paper.
If you happen to create something that is not making you happy, that's not the end of the world. It's just paper! You can throw it out and start again. Why would you keep something you don't like? Better yet, tuck it away for a while and see if time gives you a different perspective. Sometimes when you come back to that 'terrible' page you find that it really wasn't as bad as you thought. Always remember: There are no mistakes in scrapbooking, only opportunities for new creativity. If you don't like something, change it. If you make a mistake, get creative and fix it!
9. Do it for you.
Often scrapbookers create for other people. Scrapbooking for yourself helps to take the pressure off. Scrapbooking is not the kind of thing you need to worry about being 'behind' with. You don't need to compare. You simply need to find what works for you and create pages that you love. If you like it, then that's perfect!
10. Make the time.
You'll only regret what you don't do. Scrapbooking doesn't happen by accident, make time for it in your life. The things that you spend your life doing are the things that you make time for. If you want to scrapbook more make time for it. Schedule a time for scrapbooking and you'll get more done. I've heard of people who scrapbook in the car, on airplanes, in the hospital, in a camper and on cruise ships... where can you fit more scrapbooking into your life? Check out these tips for Scrapbooking On the Go.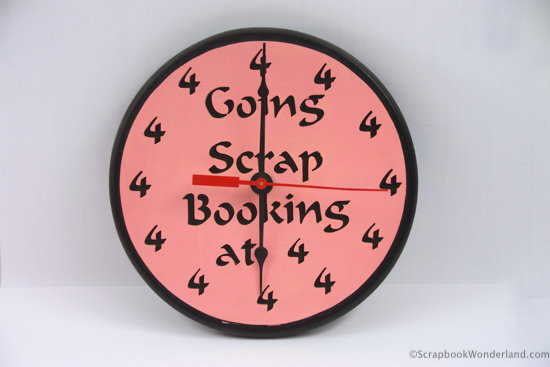 Are you ready to put one (or more) of these tips into action? Which one will you start with? I'd love to hear what your important lessons about scrapbooking are too. Leave your suggestions in the comments!
If these tips are inspiring I hope you'll pop over to Scrapbook Wonderland to see what other scrappy goodness I'm sharing.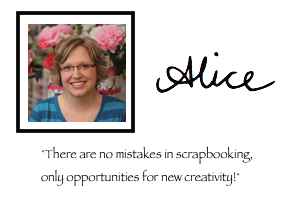 Alice Boll has been scrapbooking since 1999. She loves to share cool tips, tricks and techniques about scrapbooking with other scrapbookers. Alice is married and has two teenage sons that work their hardest to be complete opposites of each other.
Alice loves swimming and spends her summers coaching swim club. For the other 8 months of the year, also known as winter in Canada, you'll find her curled up by a cozy fire with a toque on her head, a cup of hot chocolate in hand, enjoying her favourite activity, scrapbooking, eh!
With an adventurous spirit, and a love of travel, Alice has been known to enjoy daring diversions like sky diving and bungee jumping, although lately her most treacherous activity is teaching her teenage sons how to drive.
You can find Alice sharing tips, tricks and techniques at ScrapbookWonderland.com  Make scrapbooking fun and let Alice show you how to share your memories in a creative way.