As you may have seen, baby Shanhun number 3 will be arriving any day now. So, over the coming weeks, I've lined up a great selection of posts from my scrappy and creative friends what will inspire and motivate you to scrapbook while I am busy with last minute preparations and snuggles with a newborn baby. Keep an eye out on Facebook to see when the new baby arrives!

Today I've got a post to share with you from my good friend Alice, from Scrapbook Wonderland. She's sharing some of the creative ways we can put technology to use in our scrapbooks. Which one will you try today?
Let's face it, technology is everywhere! There's no escaping it. Instead of fearing or cursing our digital world let's embrace it and put that tech to good use… in our scrapbooks! Here's 7 ways to use technology to improve scrapbooking.
1. Journaling. Use your computer to create fun and playful journaling.
Let's start with the obvious, journaling. This is the one most scrappers think of when you mention a computer. Here's a couple of ideas to make your journaling more exciting with a computer. Don't be afraid to get creative and play!
Use new fonts. There are so many free fonts available online it can overwhelming.
Mix sizes. Not all journaling needs to be in 12 point font. Try different sizes, even in the same line. Ooh! You're a rule breaker now!
Journal with strips. Leave extra space between lines so you can easily cut the journaling into strips.
Journal in shapes. Create journaling in a spiral, a circle or other fun shape. Many word processing programs allow you to do this very easily.
Create your own font. There's an easy to use website that allows you to create your own font. Yourfonts.com walks you through 7 simple steps to create a font from your own handwriting. If you can use a scanner you can now create your own font. (*affiliate link)
2. Titles - Use computer fonts to print titles.
Fonts aren't just for journaling! Try using your printer to create great titles for your layouts. Here's a couple tips to print titles:
Use the landscape mode to print on your paper sideways.
My printer allows me to select 8.5 x 14 size paper, then I feed in a piece of scrapbook paper I've trimmed to 8.5 x 12. (Even though my paper is only 12" long it works just fine.) I can print across the full 12" of the paper for an edge to edge title strip. Experiment! (but be sure to run a test sheet before printing on your best paper)
You can also print title letters and fussy cut them out. (Fussy cutting means cutting with scissors or a craft blade.) Warning! Be very selective about which kinds of fonts you use if you plan to try this. I recommend using only sans-serif fonts, otherwise cutting them out is torture! (Yes, I know this from personal experience!) Of course if you have a Cricut or Silhouette machine this will be a breeze!
3. Video. Add a video to your layout using a QR code.
Have you ever wanted to use a video on a scrapbook page? Sometimes your photos just can't say it all. There's an easy way to add a video to your scrapbook pages with a QR code.
What is a QR Code? In simple terms, a QR (Quick Response) code is like a bar code. Instead of just reading from left to right it also reads top to bottom. They are very easy to create, and they link to various kinds of information, like a Youtube video, website or business card.
Learn how to add a QR code to your page in 4 simple steps with easy to follow directions. See this post: Add Video to a Scrapbook Page
4. Planning and Inspiration. Let technology help inspire your next craft session.
There are many online resources for scrappy inspiration. Here's a few ideas to get you started.
Pinterest. By now you've probably realized that Pinterest is the place to look for crafty inspiration. Set up your boards so they are the most efficient for you. I like to separate scrapbook sketches and organization from my page layout ideas. I also set up a separate board for Christmas and cards. This makes it easy for me to find specific projects depending on what I would like to create.
Websites and Blogs. Although Pinterest is a great place for scrapbooking inspiration, there are many great websites to watch. Find some favourites and follow them. Decide if you like their style of writing, the projects they offer, and if you feel inspired after reading them. Mix it up with designers and regular scrapbookers, both inspire in different ways. If you like to use scrapbook sketches find a site that offers new sketches regularly.
Email. Don't be scared to sign up for mailing lists, this allows the scrappers you love to share their latest and greatest with you. This is also a great way to keep up with scrappers that post infrequently. I check my email all of the time but I may forget to check some of my favourite blogs and websites when I get busy. If you are like me, signing up for email lists means won't miss out on the inspiration. Don't forget: If you decide later that you don't want to receive emails it is easy to unsubscribe, the unsubscribe button is usually at the bottom of each email.
Facebook Pages and Groups or Membership Sites. If you are looking to connect with other scrapbookers, or would like to join online scrapbooking conversations try an online community. If you'd like a bit of daily inspiration try: Scrapbook Wonderland FaceBook page. I scour the internet for wonderful scrappy inspiration to share with you every weekday. I'd love to see and hear what you are up to too!
5. Photo books and digital scrapbooking.
When you want to catch up with a quick project there's nothing as easy to use as a photo book.
My two favourite photo books to create are vacation books or a year in review album. These are easy to accomplish because there's a definite start and end.
Photo books make great gifts, and provide an easy way to make multiples of a project. (one for each of the grandparents?)
Melissa shares all about creating a photobook in this class HERE.
If you are ready to take on more creative control than a photo book allows you might be ready to dive into the exciting world of digital scrapbooking. I know Melissa has a few tricks up her sleeve for you with that too!
6. Scan old photos.
Put technology to work for you and start scanning your old photos.
Easily create pages about your childhood, or your parents or grandparents with scanned photos.
It is convenient to change sizes of irregular prints by developing them in the sizes you want.
You now have the advantage of improving the photo with editing. Try fixing colours or repairing damaged photos.
Bonus, you'll have a back up of those great old photos!
TIP: One of my favourite tricks when scrapbooking old photos is to tie the story to the present. If you talk about how times have changed, or how they've stayed the same, it sparks interesting journaling. Kind of a 'Now and Then' theme.
7. Put Facebook and other social media to work for you.
Ok, I'll say it. "I'm a Facebook junkie!" I spend way too much time on Facebook. But did you know that you can use it to do your scrapbooking for you? Here's how:
Post a photo to Facebook (or Flickr, Instagram, etc.).
Let your friends comment.
Instant journaling!
Now that the hardest part of your page is done feel free to embellish!
I truly hope you'll put the power of technology to use for you. Make your scrapbooking more exciting, and sometimes simpler by using the technology we already have at our fingertips. Have I forgotten your favourite use of technology? Share it in the comments, or tell me which tip you can't wait to use first.
If these tech tricks were inspiring I hope you'll stop by Scrapbook Wonderland to see what other scrappy goodness I'm sharing. Sign up for my email list (with the pink and blue box) and you'll receive a free gift from me!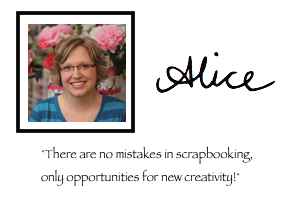 Alice Boll is a Canadian scrapbooker, eh! She loves to travel and to share tips, tricks and techniques to help other scrappers share their memories in a creative way. She is on a quest to make scrapbooking fun! You'll find her at ScrapbookWonderland.com