My 2011 December Daily Foundation pages
I was so thrilled to complete my 2010 December Daily that I turned the design into foundation pages (digital templates) for 2011. I've not yet chosen the kit I'll use along with the pages, but I have a couple of weeks to get that sorted out! I'm also thinking I won't pre-number the pages, but rather select the page with the best number of photos for each day.

Click here to view this photo book larger
2010 December Daily
In February 2011, I ordered my finished 2010 December Daily book.
I used a limited range of supplies and a template/base page design, and if I came up with a page I loved, I just rotated or altered it and reused it. I didn't do a page for every day and I did more than one page for some days. I'm was thrilled with the result!

Click here to view this photo book larger

What I learnt in 2009 and 2010
In 2009 year I faithfully recorded all the details of our December on the sheets that Jessica Sprague provided in her Holidays in Hand class. This is as far as I got with the scrapping though!
I did have grand plans to put together my 2009 book at the same time as my 2010 book, as I've got the photos and journalling done. But that didn't happen. Not to worry! I've got the paper version from my Holidays in Hand class so it can wait. Or just be in paper form for good.
Foundation pages for you
I was so inspired by the whole process that I put together a template album pack so that I can share the page designs with you! I've even coloured the layers in the templates for inspiration!
Want to get a head start on your December Daily?
Do you feel overwhelmed at the thought of creating a whole album?
Do you want to create photo-centric layouts without the fuss of lots of layering?
Are you new to digital scrapbooking and ready to start creating pages?
I've created just what you need!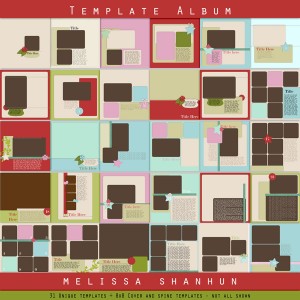 I've got everything you need to create your own album:
Enough pages to fill a book
Lots of pages that use multiple photos
Photo focus pages for those stunning photos you want to showcase
A place to share your thoughts and stories on each page
Tasteful title placement options
Ideas on placing embellishments for that finishing touch
A quick way to create a cover to print perfectly with Shutterfly
All the help you need to get started
This collection includes:
31 pre-shadowed fully layered templates
An inspiration gallery including over 80 completed pages
A introductory video tutorial for new digital scrapbookers
A tutorial explaining some advanced methods of making the templates work for you!
All this for $49
Here are a couple of layouts I have done from your template pack. They are great and I love how simple they are to use and customize! …these two pages are part of a retirement gift for a friend… These photos are from an Alaska trip he and his wife took so he is filling in the journaling. Your templates are perfect because they are so photo-centric. They allow his photos to take center stage and yet they also allow room for telling stories and adding embellishing bits too.

Casey Thompson
What's inside?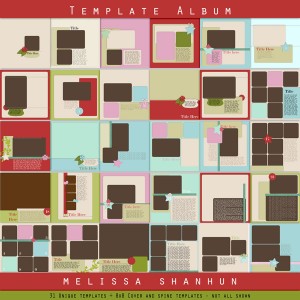 31 easy to use, photo focussed templates
1 12x12 Shutterfly ready cover template
1 quick start video tutorial
1 tutorial covering more advanced uses of the templates
Email support from Melissa!
Here's the full preview of items included
Click here to view this photo book larger
Got Questions?
Love the idea, but not sure you know how to use templates?
Don't worry. I've included a video tutorial that gives you the inside shortcuts so that you can get your pages done in a few minutes each.
Do you prefer to work from sketches?
I've got you covered, I've also included a bonus PDF ebook of full colour sketches free!
What do I get?
31 easy to use, photo focussed templates in PSD, TIF and JPG format
1 12x12 Shutterfly ready cover template
1 quick start video tutorial
1 tutorial covering more advanced uses of the templates
PDF ebook of sketches
Email support from Melissa
How do I download the files?
Once you've checked out using PayPal or your credit card. You'll receive an email with a link to the download page.
How long do I have access to the downloads?
You'll have one year of access to the files, however, if you ever have issues accessing them, just contact me.
Still got got questions?
Contact me me for more information.
Buy now
Only $49
Like my book? Here's my inspiration
If you like how I put together my book – I was inspired by Katie's post at the Daily Digi – How to Narrow it Down with Thin Slicing and Noell's article – How to Get More Impact with Less Effort.
For the actual conversion of 12x12 layouts to 8x8 Shutterfly book and to create the cover I used Wendyzine's Shutterfly Toolkit: 8x8 version 2.0. To split my two page spreads I used her Action: Crop it.

Link me up!
I'd love you to link me up to your December Daily or other project that you are proud to have completed!
Keep visiting my site because I'll be sharing a little more about my book and how I can help you create your own soon.
This post contains affiliate links. This means that if you click through that link and purchase an item, I may receive a commission for referring the sale.
I only recommend classes and products that I know and trust. So I hope that you'll support Digital Scrapbooking HQ by using my link if you decide to purchase.